Wood Chips Delivered to Maryland and Northern Virginia
Saunders Landscape Supply offers wood chips and playground carpet mulch delivery in Northern Virginia and Maryland. Wood chips for sale and immediate delivery in MD & VA. Order online or by phone for delivery right to your driveway in Maryland & Northern Virginia! Click for answers to Ordering Questions or Contact Us.
Click Products to View Pricing
Material Calculator
Please use the calculator to determine how much material you will need.
Our wood chips and carpet mulch provide the perfect base for a playground. If you need to transform a large area into a play place or tot lot without breaking the bank, our carpet mulch is the way to go. If you want to create a pathway or tree ring that will be comfortable for visitors, buy our wood chips.
Wood Chips
Our wood chips are the debarked insides of the tree. Because they're only the inside of the tree, they are softer and very clean.
Wood chips can be used for playgrounds, but their optimal use is in pathways and tree circles. Wood chips are clean to walk on, which makes them a great way to create a garden pathway. Wood chips naturally suppress the growth of weeds, so you won't have to weed your walkway like you might with other materials.
Wood chips can also be used in place of hardwood mulch for times when you want the look of a lighter mulch. They give some of the benefits of our regular mulch. Wood chips provide critical nutrients to the plants, while regulating the temperature and water retention of the area and keeping weeds at bay. Wood chips also improve the condition of your soil by providing needed carbon.Wood chips can create a lovely visual piece wherever you would normally use hardwood mulch. Things like tree circles can be made much more appealing with bright, clean mulch.
They can also be used for composting material. If you need a "brown" layer (carbon), wood chips will do well.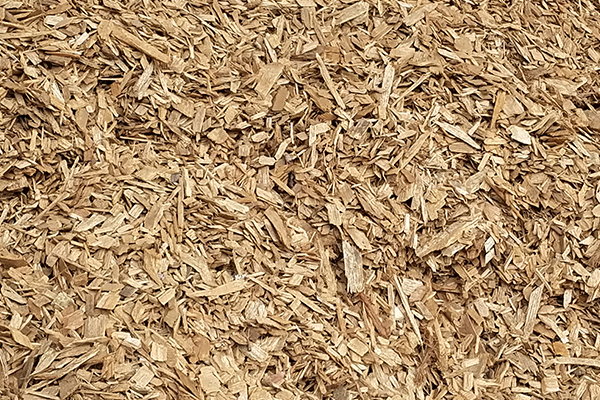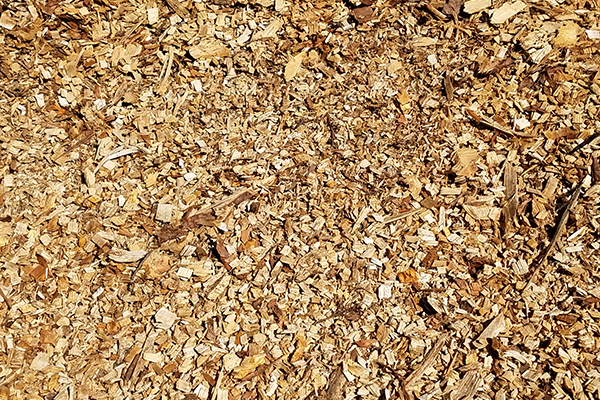 Carpet Mulch
Our carpet mulch is shredded wood chips. Because the wood chips are already made from only the insides of trees, the shredding process makes a soft product even softer.
The softness of our carpet mulch means it's the best option for children's play areas. Anywhere you have jungle gyms, slides, and swings, you're going to want to have a soft material that will lessen the impact of falls.
At the same time, carpet mulch provides more traction than other materials you could use to build a playground. That means fewer slips and falls for the kids.
Carpet mulch is comfortable on bare feet, and you won't get splinters either.
Whether you order wood chips or carpet mulch, you'll get FREE delivery right to your driveway. Often we can deliver the day after you order. Click the photos above to learn more or start your order. If you don't know how much you need, our materials calculator can help. The National Security Council recommends a depth of 12 inches for protective fall surfaces.
MAILING ADDRESS
PO BOX 80
Clifton, VA 20124
MARYLAND
1008 W. Central Avenue
Davidsonville, MD 21035
VIRGINIA
4460 Brookfield Drive, Suite F,
Chantilly, VA 20151