The adage reads: "Do what you love and never work a day in your life."
Don Saunders, owner of Saunders Landscape Supply has a life shaped around that quotation. It would be difficult to find a more friendly and enthusiastic man than Don Saunders.  He not only loves supplying landscaping products, but he loves the people to whom he delivers these products as well.
When asked what aspect of his successful landscape delivery company is most important to him, the answer is obviously: "customer service."
It is hard not to respect a man who almost 25 years ago had nothing more than an idea and a passion for the products he serves.  He began mowing and treating customer's lawns while driving an old Pontiac Grand Am.  He worked extremely hard for a couple of years and was able to purchase a one ton dually truck.  This enabled his plan of delivery of mulch, topsoil, gravel, sand and firewood to his customers to start to take form.
How fast does Saunders deliver?
Deliveries can generally be made the same day or next day. An exception to this may be during the Spring or for deliveries made on Fridays. You may wish to place your order several days in advance for these time frames.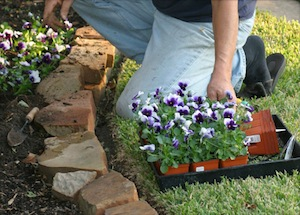 Over 20 years later, the smile is difficult to not be seen on Don's face because he worked hard to please every customer, and he built a successful business from nothing but an idea and a ton of hard work.  He now enjoys an A+ Better Business Bureau rating for over ten years and counting.  He has won numerous awards in his industry, including six straight years earning Angie's List Super Service Award.
    A vast majority of his business is to the do-it-yourself landscaper, and Don enjoys helping people make their landscapes beautiful.
   Don Saunders has enjoyed mulch and other products since he was a young boy.  There probably is not another man in the nation who knows more about wood products and landscape maintenance than Don Saunders.  It can be seen in the products he supplies his treasured homeowners.
   His favorite mulch is double-shredded hardwood.  The mulch he supplies starts off with a tree going through a screened grinder with a four inch screen.  Then, the wood is left out for 6-8 months, as this first cut is highly acidic and needs to gain moisture.
   The wood is placed through a second grinder, which has a two inch screen.  The end product is healthier mulch, which means a healthier landscape.
   Is there unhealthy mulch being sold?   Yes, but not by Saunders Landscape Supply…not by Don Saunders.
    His vision of free delivery of landscape supplies has enabled homeowners to take control of their landscape and magnify its finest points.
    He will travel up to 25 miles away from his nearest supplier to a customer.  His company is also known to go further if needed.  Saunders Landscape Supply services these counties and more: Anne Arundel, Fairfax, Fauquier, Howard, Loudoun, Montgomery, Charles, Prince George's, and Prince William counties.
How much mulch do I need?
You will need one cubic yard for every 108 square feet to be covered. There are 27 cubic feet in one cubic yard ( 3 feet tall, 3 feet wide, and 3 feet deep). Please use our handy calculator which may be found on each and every page on this website.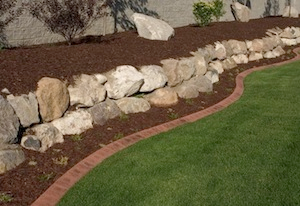 Ordering online or by phone is quick and effortless.  Wood chips, firewood, sand, gravel, stone and of course mulch will be swiftly delivered to your home accompanied with a friendly greeting.
    The passion for wood products is even shown in his firewood delivery.  An elite chef only uses the freshest and highest quality products in the food he makes.  Saunders Landscape Supply only offers the right products right away.
    When a tree is first cut, moisture is in excess of 50%.  Saunders offers seasoned firewood, which is left until the moisture levels lower to around 20%, ensuring quality wood burning.  Most of the wood Saunders supplies has seasoned for 8-9 months.
    Meeting someone who is more exacting over the quality of his products would be difficult.  Meeting someone with a passion for his work would be absolutely impossible.
    Quality products and exceptional service has built Saunders Landscape Supply into an industry leader.  If you want to see the appreciation Don Saunders has for his customers, simply meet him.  If you want the highest quality landscaping products at an affordable price, simply place an order.